Center hole not quite on center?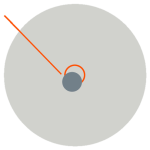 Ideally, workpieces for lathes and grinders will have center holes drilled exactly in the center, ensuring perfect concentricity. But in the real world of high-paced machining, this is not always the case. Off-center deviations of just a few thousandths will drastically reduce machining accuracy.
Reworking of parts may also cause their center holes to be no longer concentric with the machined surfaces.
Bad center holes are an occasional nuisance, but Riten has engineered a new tool that can turn potential scrap into accurately machined parts.
The Adjusta-Point Radial Compensating Live Center 
This center started out as a "custom special" for a customer who wanted to salvage expensive workpieces
with mis-drilled center holes. It is equipped with four external adjusting screws that can move the point radially up to .030" in any direction. The adjustable point locates in the center hole, centering the part by offsetting the deviation.
With the center engaged, the part is rotated using an indicator to check concentricity. Then the screws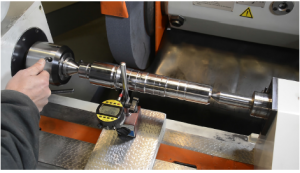 are adjusted to offset the variance and center the part. In other words, as you indicate your part in, the Adjusta-Point live center is acting like a four-jaw chuck.
Adjusta-Point Specifications


The word has spread about this center's remarkable capabilities to the point that it is no longer a
"special." Adjusta-Point live centers are now in stock as catalog items in 3, 4, 5, 6, and 7 Morse tapers. Other tapers, along with special point dimensions and other modifications are available on request.
If bad center hole parts are a problem in your shop, give Riten a call at 1-800-338-0027 or send an email with your requirements to sales@riten.com.