As any manufacturer knows, the industry is as demanding and competitive as ever, with efficiency and productivity requirements that are more than a little challenging. That's why any tool that can increase productivity and quality, without breaking the bank, is more than welcome. One such tool is the face driver.
So what exactly is a face driver, how does it work, and how do you go about choosing one? We're here to help.
Face Driving 101
A face driver, simply put, allows you to machine the entire length of a work piece in one operation, as the whole work piece is exposed for machining. Because you don't have to flip the part during the production process, accuracy and efficiency are increased significantly.
Consisting of two main components—the carrier body and the mounting—the latter locates the driver in the machine using Morse taper shank or a flange mount.  Either design can be chucked using soft jaws instead of direct mounting.  The drive head contains a hydraulic or mechanical compensating medium, drive pins and center point. The actual face driving process consists of simple two-step clamping: centering followed by clamping. The compensating medium in the face driver assures equal penetration of the drive pins despite variations in the surface or in the squareness of the face.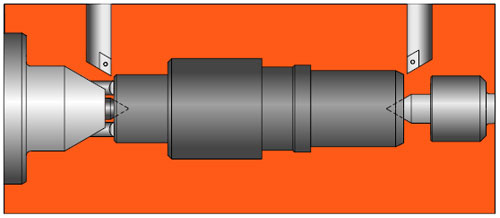 As compared to traditional machining which requires multiple operations, face driving makes it possible to machine the work piece in one simple operation.  To see how easy this can be look at a
face driving video
on our web site.
Some of the Many Benefits Include:
Complete turning in one operation; greater accuracy and quality; aggressive machining (as much as ¼" per side);increased repeatability;faster load times; utomatic part loading; elimination of the need to face irregular or out-of-square faces; and many more…
Selecting the Right Face Driver
Not a problem. Simply contact us, fill out a few forms to ensure the right selection based on your application and needs, and we will select your driver. Want even more help? Call, fax or email us and a face driver technical specialist will further guide you: call 800-338-0027; fax 800-338-0717; email quotes@riten.com.